Very Good Recipes of Beef from Do You Smell That!!?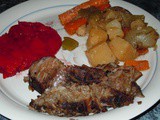 Crock Pot Beef Roast
By Do You Smell That!!?
09/04/11 08:36
All in favor of crock pots, say *I *!!! Me, too. I just love the darn thing. As a matter of fact, I recently entered a giveaway on the Fix-It and Forget-It blog and, out of almost 1,800 entries, I was the lucky winner of all 7 of the cookbooks in their...
Add to my recipe book
Teriyaki Coke Beef [Marinade]
By Do You Smell That!!?
06/27/11 20:21
HUH!!?? I've heard of Cherry Coke, Vanilla Coke - Coke with Lime, but Teriyaki Coke!!?? YES! Don't worry, you're not gonna drink the stuff. But, surprisingly, when you mix the two together they make a pretty wonderful marinade for your beef! The original...
Add to my recipe book