Very Good Recipes of Crumble from Easy recipes, stunning presentations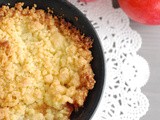 Red prune crumble
By Easy recipes, stunning presentations
04/25/12 21:44
We are still working at home so cooking or taking pictures of our dishes has become pretty difficult, but hope to be back in full action within a couple of weeks. But of course we still have to eat and are still craving for sweets but I can not afford to...
Add to my recipe book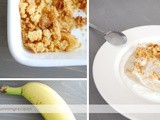 Banana breakfast crumble
By Easy recipes, stunning presentations
03/29/12 12:02
Breakfast is the most important meal of the day, that is why it should be a real feast. It can go from sweet to savoury. The following recipe is a nice balance between fruit and yogurt topped off with some simple baked crumble. A crunchy crumble made out...
Add to my recipe book