Very Good Recipes of Stew from Eating Adelaide
There are 3 Stew recipes on the blog Eating Adelaide. (621 on all the blogs)
Click on the title of a recipe or the photo of a dish to read the full recipe on its author's blog.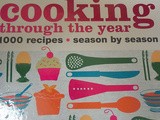 Cooking Through the Year: a Smoky Aubergine and Lamb Stew
By Eating Adelaide
10/07/14 23:47
Email this page I'm ludicrously tardy in posting this recipe … the book from which it comes is due back at the library today (even after an extension) and Spring has landed here in Adelaide. But yesterday's wild and woolly weather reminded us that we are...
Add to my recipe book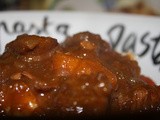 Beef Stew with Balsamic Vinegar and Capsicums
By Eating Adelaide
07/13/13 04:51
Despite being 'at home' much of the time, I'm finding there's less time for elaborate cooking. The amount of 'help' a toddler affords in the kitchen is somewhat minimal. Add to that some late finishes at work for Andy and various cooking television programs...
Add to my recipe book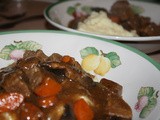 Beef and Beer Stew
By Eating Adelaide
02/15/12 03:33
Well, Adelaide's cool weather appears to have disappeared for a while, but our friends in the northern hemisphere are freezing their little tootsies off, so at least some readers should have an immediate use for this recipe. The rest of us can save it up...
Add to my recipe book