Very Good Recipes of Onion from Experiments of a Housewife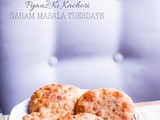 Gmt : Pyaaz ki Kachori (Pastry stuffed with spicy onion filling)
By Experiments of a Housewife
02/05/14 06:23
If you have been following my blog since I started it then either you are one of my friends B, the Pious Hippie or G, or my mother or V. My point- I have posted this recipe for Pyaaz ki kachori before. Way before. Three and a half years back. Just a few...
Add to my recipe book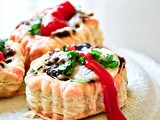 Caramelized Onions, Mushrooms and Gruyere Tartlets
By Experiments of a Housewife
01/31/12 00:38
I love Michelle's site- The Brown Eyed Baker. In the past I have made the portobello pesto pizza adapted from her site, and it was wonderful. Coincidentally (although it was not intended) I chose another mushroom recipe from her site to try. Last week,...
Add to my recipe book