Very Good Recipes of Curry from FarmgirlGourmet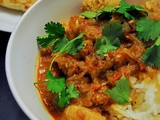 Malabar Chicken Curry with Homemade Garam Masala
By FarmgirlGourmet
03/07/12 19:18
Yesterday I was craving Indian food. I haven't eaten Indian food in years. Sad, right? I guess you could say that I have a major aversion to yellow curry. Red curry? Love it. Green curry? Can't get enough of it. Yellow curry? I'm running for the hills from...
Add to my recipe book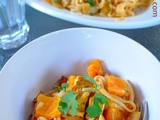 Crispy Tofu & Rice Noodles in Red Curry Coconut Sauce
By FarmgirlGourmet
08/03/11 07:56
Tonight I was really wishing that the Dinner Fairy would swoop in and magically make a delicious dinner appear. I staled as long as I possibly could. The troops were extremely restless and starting the "let's have makeyurownies tonight". Which really means,...
Add to my recipe book