Very Good Recipes of Almond from feasting at home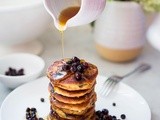 Huckleberry Pancakes with Almond Flour
By feasting at home
08/08/14 07:40
Preparation: 10 min - Cooking: 15 min Hello, sun in my face. Hello you who made the morning and spread it over the fields...Watch, now, how I start the day in happiness, in kindness. Mary Oliver These little guys are sure to bring a smile to whomever you serve them up to this morning. Huckleberry...
Add to my recipe book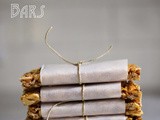 Coconut Almond Bars
By feasting at home
11/18/13 16:33
Preparation: 10 min - Cooking: 20 min Honey nut bar To bring happiness to others, we must be happiness. Thich Nhat Hanh For the past several weeks, I have been cranking out batches and batches of these Coconut Almond Bars - I...
Add to my recipe book