Very Good Recipes of Butter from feasting at home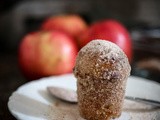 Apple Brown Butter Bouchons
By feasting at home
10/13/13 02:01
I have been thinking a lot about soul lately. Mainly because I've been doing a fairly good job of neglecting mine. It happens more than I care to admit, periods where I loose myself. Do you...
Add to my recipe book
Grilled Corn with Chipotle Lime Butter & Cilantro
By feasting at home
06/26/12 19:17
Grilled corn on the cob couldn't be simpler. There are numerous ways to cook fresh corn, and I think I have tried most of them, but my favorite way, which happens to be the easiest way....is...
Add to my recipe book