Very Good Recipes of Cauliflower from Few Minute Wonders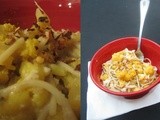 A Video Of How To Make Cauliflower Ragu For Pasta
By Few Minute Wonders
01/17/13 04:19
I am very excited to post my first you tube video, that my little nephew made for me last year. He is very passionate about making movies and you can find him with his little camera walking around the house like a director/ camera man making his movies....
Add to my recipe book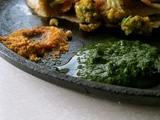 Cauliflower Masal Dosai/ Cauliflower Masal Roast Using a Green Cauliflower
By Few Minute Wonders
04/24/12 03:47
Cauliflower masala roast/dosai is very popular in the south of India. It is one of our favorite dosai's to have at the restaurants. Sometimes, they add too many spices and kill the taste of cauliflower. This week at the farmers market they had a very green...
Add to my recipe book
Gobi Paratha/ Cauliflower Paratha : Its a Purple Gobi / Cauliflower Partha
By Few Minute Wonders
03/20/12 17:46
We could not walk past the purple cauliflower at the farmers market this week. My daughter immediately rushed to the table and picked up one and put them in my hands demanding that I buy it because she wanted the cauliflower which came in her favorite color:...
Add to my recipe book