Very Good Recipes of Onion from Few Minute Wonders
A Video On How To Make Onion Sun Dried Tomato Dip In Under 2 Minutes
By Few Minute Wonders
01/29/13 00:53
It was a crazy day during the championship games. We ended up making a bunch of dips to enjoy the game. It was such a breeze to make it and was done in 2 minutes. I had an idea for the recipe when I was getting ready for the game. Texture I thought was...
Add to my recipe book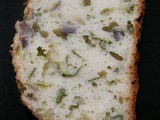 Cilantro Onion Bread
By Few Minute Wonders
04/01/12 17:04
Bread baking has been a great challenge for me. Over the years I have baked many types of bread and I have never been satisfied with the end product. It is kind of frustrating when the bread does not turn out the way one anticipates, soft and fluffy on...
Add to my recipe book