Very Good Recipes of Saffron from Few Minute Wonders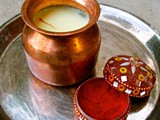 Kumkumapoo Pal/ Saffron Milk: Warm Milk Infused With Saffron
By Few Minute Wonders
08/04/12 17:11
Last week was Varalakshmi Viradham, a celebration of goddess Lakshmi. As a child, I used to be so excited to watch my Amma decorate the face of the Amman ( Lakshmi) and draped her in the half saree. On the day of the pooja, modhakum, payasam, vadai etc...
Add to my recipe book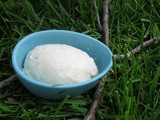 Cottage Cheese, Saffron & Almond Ice Cream For Easter
By Few Minute Wonders
04/09/12 00:34
Spring time is so beautiful and colorful. Everywhere we go flowers of all shades and colors lifts our spirits and make us smile. The hills and the grass is green where ever your eyes can look. It is the best time to go for nature walks, visit the zoo or...
Add to my recipe book