Very Good Recipes of Books from food and thrift
There are 3 Books recipes on the blog food and thrift. (700 on all the blogs)
Click on the title of a recipe or the photo of a dish to read the full recipe on its author's blog.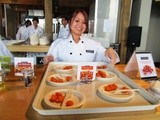 Taste Pavilion, and Book Signing, from Chef Tyler Florence
By food and thrift
11/13/11 08:35
As I mentioned in my previous post...here we are at the Taste Pavilion, on the second day, November 5th. at the Metreon! I happened to stop by the Alexia station to sample their delicious Sweet Potato Bites. Spicy, light and totally addictive. Judy's Breadsticks...
Add to my recipe book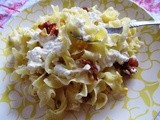 Hungarian Cottage Cheese Noodles...and a Book Giveaway
By food and thrift
09/13/11 17:47
We have an old Hungarian tradition, that I remember from childhood, that my grandmother used to make, at least once a week called "túrós tészta (csusza)"...cottage cheese noodles! My mom used to make it, and my aunt, and sister, as well. The only difference...
Add to my recipe book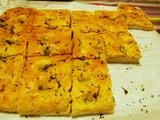 Rosemary Focaccia and Book Giveaway
By food and thrift
08/05/11 16:40
You would think I have not cooked or baked anything in the last couple weeks since I've been staying at my son's house watching their 16yr. old sweet Black Lab named Thai whom I thought was still only 13yrs old. She is actually going to be 17, and still...
Add to my recipe book