Very Good Recipes of Desserts from Foodiva's Kitchen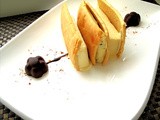 Vietnamese-Cajun Dessert - Vietnamese Mint and Lemongrass Ice Creams in Praline Cookies, with Chocolate Chili Truffles
By Foodiva's Kitchen
Subscribe
05/30/12 15:00
I'm pretty sure many of you did a double-take when you read my post title above. *What could she have been thinking?* No, I haven't completely lost my mind because this is the way I always think, especially when there is a cooking challenge involved. Our...
Add to my recipe book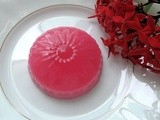 Coconut-Rose Agar Agar Dessert
By Foodiva's Kitchen
Subscribe
08/02/11 00:00
It's the first day of Ramadan over here, and I decided to break the ice cream posts somewhat because well, monotony is boring. And if, like me and many others worldwide, you're fasting for 12-13 hours a day under the scorching sun (okay, more realistically...
Add to my recipe book