Very Good Recipes of Honey from Foodiva's Kitchen
Muffin Monday - Honey Pineapple Olive Oil Muffins with Lime Glaze
By Foodiva's Kitchen
Subscribe
03/19/12 06:00
These week's muffin recipe for Muffin Monday is another easy one, if you have a bowl, a spatula and a muffin tray, you're all set to make these. The original recipe provided by Anuradha of Baker Street (our host) was for Honey Lemon Olive Oil Muffins with...
Add to my recipe book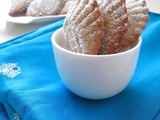 French Fridays With Dorie - Honey Rose Spiced Madeleines and Giveaway Winner
By Foodiva's Kitchen
Subscribe
09/22/11 19:00
"Don't part with your illusions. When they are gone you may still exist, but you have ceased to live." ~ Mark Twain Did I manage to fool you into thinking that I made madeleines this week for French Fridays? Well, the batter was for madeleine cookies for...
Add to my recipe book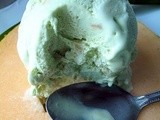 Pandan and Honey Melon Ice Cream and My 7-Links
By Foodiva's Kitchen
Subscribe
08/31/11 12:29
All the knowledge I possess everyone can acquire, but my heart is all my own. ~ Goethe Remember when I told you that I bought a whole big bunch of pandan leaves for next to nothing? Well, I finally got around to doing something with them. My ice cream days...
Add to my recipe book