Very Good Recipes of Mango from Foodiva's Kitchen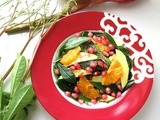 Ginseng Leaf Salad with Pomegranate, Orange and Green Thai Mango
By Foodiva's Kitchen
Subscribe
10/24/11 10:24
There can be no other occupation like gardening in which, if you were to creep up behind someone at their work, you would find them smiling. ~ Mirabel Osler My mother is the most gifted gardener I know. For as long as I can remember, she never possessed...
Add to my recipe book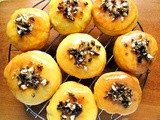 Mango Donuts with Nutella Filling and Crushed Macadamia Brittle, and ybr
By Foodiva's Kitchen
Subscribe
08/05/11 05:37
"Beauty need only be a whisper" ~ Katie Melua When we lived in Germany in the late '90s, I managed to have two babies in 2 and a bit years. I say managed because in actual fact, I was there for work, the quintessential career woman, I was. For 3 years,...
Add to my recipe book