Very Good Recipes of Sauce from Foodiva's Kitchen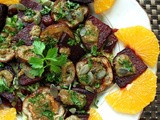 Roasted Eggplant and Beetroot Smothered in Moroccan Chermoula Sauce
By Foodiva's Kitchen
Subscribe
09/07/12 19:19
I am my best work... a series of road maps, reports, recipes,doodles, and prayers from the front lines. ~Audre Lorde, poet I made this for lunch recently and really hadn't planned on posting this recipe up on the blog, but sometimes life doesn't always...
Add to my recipe book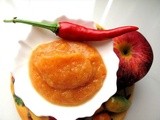 (Almost) Wordless Wednesday - Scotch Bonnet-Thai Chilli Apple Hot Sauce
By Foodiva's Kitchen
Subscribe
10/26/11 07:27
I went vegetable picking at my mother's farm last weekend and came back with plenty of organically grown goodies, including these super sweat-inducing Scotch Bonnets and Thai Chillies. I decided to brave it up and make a hot sauce from them - a REALLY hot...
Add to my recipe book