Very Good Recipes of Kiwis from Free Spirit Eater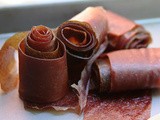 Plum Chai Tea & Kiwi Fruit Leather
By Free Spirit Eater
06/18/12 11:30
As sweet cravings continue to haunt me, I look for ways to keep healthy desserts interesting. I stay away from unhealthy snacks by comparing their jaw dropping calorie count to what I could be having instead. So I thought I might try it with you guys. When...
Add to my recipe book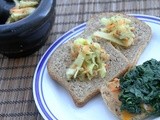 Grilled Chicken and Spinach Melt w/ Kiwi Apple Coleslaw
By Free Spirit Eater
04/04/12 22:28
Maybe this is cliche, but Spring really is my favorite time of year. The weather is PERFECT. The sudden change of pace as if life outdoors was in slow motion and suddenly has returned to normal speed. The parks are beginning to be filled with more faces...
Add to my recipe book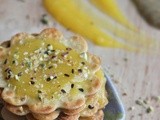 Sesame Wonton Crackers w/ Kiwi & Papaya Spreads
By Free Spirit Eater
02/18/12 19:15
It's the weekend! I'm home trying to prevent spreading my germs to others. Good news is my nose is finally working again! I'm beginning to smell slight hints and undertones of strong aromas. I've never missed these kitchen scents more... Bacon frying sauteed...
Add to my recipe book