Very Good Recipes of Potato from Free Spirit Eater
Lobster & Sweet Potato Corn Risotto w/ Sauteed Rainbow Chard
By Free Spirit Eater
04/18/12 06:53
*warning*- I discuss the humane execution of a lobster, and there is a photo of one about to be executed. You've been warned! If I could compile a list of the many ways my life has changed since beginning this journey to a healthier life style, it would...
Add to my recipe book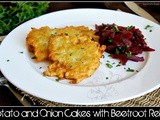 Guest Post: Sandra's Easy Potato & Onion Cakes w/ Beetroot Relish
By Free Spirit Eater
10/19/11 08:45
I am beyond ecstatic to introduce my first guest blogger on Free Spirit Eater! Whoo hoo! I have been waiting for the right guest poster on this humble little blog and am excited to introduce my fellow food blogger, friend, and one of the sweetest people...
Add to my recipe book