Very Good Recipes of Spicy from Free Spirit Eater
Whole Wheat Spicy Bison Quesadillas
By Free Spirit Eater
Subscribe
06/21/12 22:51
Have you ever had a food phase? As in, there was a period in your life where you indulged in a specific type of dish, candy bar, meal, or drink, every day for days maybe even weeks straight? Maybe it was a once in a lifetime occurrence, or you experience...
Add to my recipe book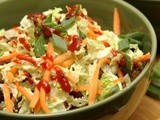 Spicy Sweet Beef Udon Noodle Soup
By Free Spirit Eater
Subscribe
04/13/12 07:42
Another week has come and gone. Although I miss being attached to the computer, blogging and commenting on your blogs, I hope you can all understand that being a soon to be bride has its hectic moments. Especially since the big day is a little over a month...
Add to my recipe book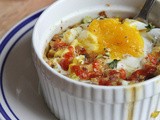 150 Calorie Spicy Asiago & Spinach Baked Eggs
By Free Spirit Eater
Subscribe
02/27/12 09:31
I remember when the restaurant I worked for added baked eggs to the menu. The week before we had been brainstorming new menu items to incorporate into our contemporary brunch menu. What could make someone say wow when you present them their meal? The executive...
Add to my recipe book