Very Good Recipes of Turkey from Frieda Loves Bread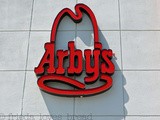 Grand Turkey Club at Arby's
By Frieda Loves Bread
08/09/13 23:00
This is a Sponsored post written by me on behalf of Arby's for SocialSpark. All opinions are 100% mine. Who loves Arby's? I do! They have been around as long as I can remember....they are famous for their thinly sliced roast beef and tangy barbeque sauce...
Add to my recipe book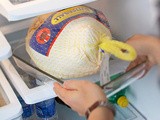 Last Minute Thanksgiving Tips & Favorite Turkey Day Recipes
By Frieda Loves Bread
11/21/11 15:00
Did you buy a frozen turkey? Now's the time to thaw it out! photo from BHG There are two ways to thaw out your turkey: (1) Refrigerator: for every 5 pounds, you need 24 hours to thaw. Therefore, a 15 pound turkey will take 3 days. Put your turkey in a shallow...
Add to my recipe book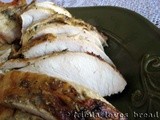 A Giveaway to Save Your Thanksgiving Turkey
By Frieda Loves Bread
11/04/11 14:00
Did you know that you cannot rely on the pop-up timer on your Thanksgiving turkey? Herbed Turkey Breast, Step by Step Did you know that it is very easy to cook a prime rib? Prime Rib, Step by Step It is, if you have the right equipment. I am grateful that...
Add to my recipe book