Very Good Recipes of Pea from From my kitchen with love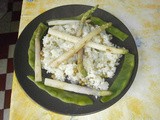 Risotto Verde with asparagus, peas and Italian flat beans
By From my kitchen with love
04/08/13 09:36
Français I decided to try to cook fresh asparagus, even if I remember that I didn't like them as a child. Well, I was not so glad of the result... First, I was "stolen" in the supermarket: I chose my asparaguses and they looked nice. But the plastic that...
Add to my recipe book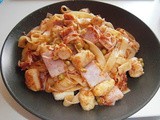 Tagliatelle pasta with peas, tomato sauce, ham and quenelles
By From my kitchen with love
02/07/13 10:27
Here is a recipe that is special to me: it was one of my favourites when I was a child. is that you always find What's great about pasta, is that you always find something new and nice to do with them! Ingredients (for 4 people) 450 g tagliatelles 125 g...
Add to my recipe book