Very Good Recipes of Bread rolls from Gayathri's Cook Spot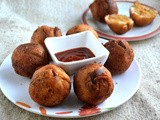 Sweet Potato Bread Rolls
By Gayathri's Cook Spot
02/09/13 13:05
When my brother was in college, he used to bring his friends home and mom would make delicious bread rolls for all. They were great fans of mom's cooking and this tradition followed when I went to college. When I bought home sweet potatoes, I had a different...
Add to my recipe book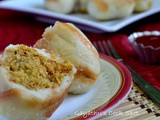 Sweet Potato Bread Roll
By Gayathri's Cook Spot
07/03/12 13:30
Today is the first week of Blogging marathon#18, and I am posting under the theme stuffed dishes. Bread rolls are normally stuffed and deep fried savoury snacks. But to make a guilt free version, I pan fried the rolls. For the stuffing I used the sweet...
Add to my recipe book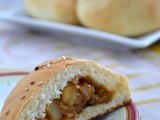 Eggless Stuffed Bread Rolls
By Gayathri's Cook Spot
04/19/12 11:19
For the fourth day of Blogging Marathon#15, I tried out these stuffed bread rolls. The filling is a combination of potato, capsicum and carrot and the spices were chaat masala. The filling itself was delicious and inside those soft rolls, they were awesome....
Add to my recipe book