Very Good Recipes of Chip from Gayathri's Cook Spot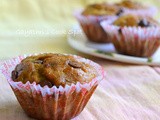 Eggless Banana And Choco Chip Muffin
By Gayathri's Cook Spot
01/08/12 11:07
Last week, Sruti wanted cupcakes for her school's sharing activity. The students are divided into 4 groups and each group is asked to bring a snack. Sruti's group got cupcakes. I searched for an easy recipe in my recipe collection and came across this muffins...
Add to my recipe book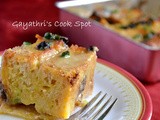 Eggless Bread and Chocolate Chips Pudding
By Gayathri's Cook Spot
12/29/11 13:24
After preparing the French Country Bread with sourdough starter for The Daring Baker Challenge, the question of how to use it arises. I made this delicious pudding with one whole bread. This is an eggless version and it is loaded with chocolate chips. It...
Add to my recipe book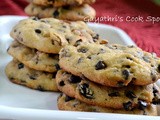 Eggless Chocolate Chip Cookies
By Gayathri's Cook Spot
12/28/11 14:03
Today I am back in my home. Yesterday I bought chocolate chips in a store in Coimbatore. Today I made these wonderful cookies which are crunchy and soft at the same time. When I read about these cookies, usually the author describes it as crunchy and chewy....
Add to my recipe book