Very Good Recipes of Tarts from Gheza-e-shiriin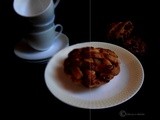 Dutch Apple Tart - bp Challenge
By Gheza-e-shiriin
01/25/14 14:54
A little late for the post, but this was the month's challenge for our BP group suggested by Kaveri of Palakkad Chamayal. She had suggested two recipes Dutch Apple Tart & Coffee Buns. I chose to go for Dutch apple tarts & have halved the entire recipe....
Add to my recipe book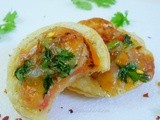 Chicken Curry Tarts - a guest post for Raaazzfoodlove
By Gheza-e-shiriin
11/26/13 06:27
Hi Friends, another guest post for a beautiful blog Raaazzfoodlove. Razina has started this series inviting all kind of bakes for her blog. So I am sharing with you the chicken curry tarts. I consider this is the best twist you can give to your left over...
Add to my recipe book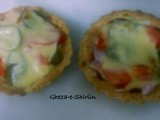 Onion & Cheese Tarts
By Gheza-e-shiriin
04/16/12 12:33
This tartlets recipe has been adapted from Divine taste.I am following this recipe since many years. And it has never failed me on my first try also.Two little words are more than enough to describe this tart ,CRISP & DELICIOUS to the core. I use different...
Add to my recipe book