Very Good Recipes of Thanksgiving from give them something better
After Forks Over Knives … Thanksgiving Recipes
By give them something better
11/16/11 02:09
So you have seen the Forks Over Knives film and have decided to eat a more plant based diet. But now, with Thanksgiving on the way you feel a little distraught what do we eat for Thanksgiving. So far we have talked about the Turkey (more to come on this...
Add to my recipe book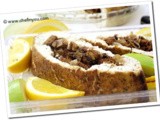 Meatless Monday Supper Club–Thanksgiving Addition
By give them something better
11/08/11 03:56
The Tofu Turkey…you've always wondered does it really taste like turkey? Should I make one and risk wasting five pounds of tofu? Okay, maybe you haven't wondered…but I have! Several years ago I saw someone on a cooking show make a Tofu Turkey, they even...
Add to my recipe book