Very Good Recipes of Frosting from Good Food Ends With Good Talk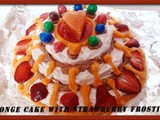 Sponge Cake With Strawberry Frosting
By Good Food Ends With Good Talk
Subscribe
05/04/12 21:24
Today is our 17th wedding Anniversary, how fast the years passed. First I planned to make an ice cream cake but unfortunately forgot to take ice cream pack from the supermarket. So the plan changed to simple frosted cake. My daughter's birthday falls in...
Add to my recipe book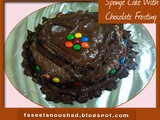 Sponge Cake With Chocolate Frosting
By Good Food Ends With Good Talk
Subscribe
02/16/12 09:01
This is my first cake with frosting. From long time I was planning to make it but was not at all confident. Then I thought any way I will try it, I managed to do it but frosting part didn't come up to my satisfaction. My son was behind me not allowing to...
Add to my recipe book