Very Good Recipes of Fudge from Good Food Ends With Good Talk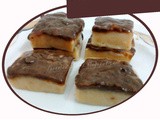 Milk-Chocolate Fudge
By Good Food Ends With Good Talk
01/30/12 12:02
Ingredients Milk: 3 cups Condense Milk: 1 tin Sugar: ½ cup (can adjust according to your taste) Corn Flour: 2tbsp Butter: ½ cup Cocoa Powder: 1tbsp Method of Preparation In a pan add milk, sugar and corn flour. Stir well without forming lumps. Keep on the...
Add to my recipe book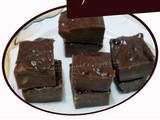 Easy Chocolate Fudge
By Good Food Ends With Good Talk
01/20/12 09:56
Ingredients Cocoa Powder: 2tbsp Coffee powder (Nescafe): 1tbsp Milk powder: 2tbsp Corn Flour: 1tbsp Butter: 2tbsp Milk: ½ cup Sugar powdered: ¼ cup (as per your taste) Method of Preparation In a bowl add cocoa powder, coffee powder, corn flour, milk powder...
Add to my recipe book