Very Good Recipes of Honey from Good Food Ends With Good Talk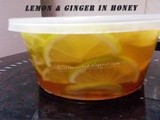 Lemon and Ginger in Honey (Cold Buster)
By Good Food Ends With Good Talk
11/08/13 04:16
Ingredients Lemon: 3 Ginger: 2" piece Honey: 1 ½ cups or as needed Method Of Preparation Cut the lemon into thin slices as per your desire. Thinly slice the ginger. In a dry jar add the lemon slices and ginger slices. Then add the honey to the jar(honey...
Add to my recipe book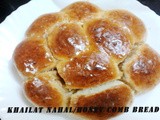 Khailat Nahal/Honey Comb Bread
By Good Food Ends With Good Talk
09/23/12 17:40
Ingredients All Purpose Flour: 3 ½ cups Milk: 1 cup Milk Powder: 2tbsp Water: ½ cup (or as required) Egg: 1 while kneading + 1 for egg wash Sugar: 3tbsp Oil: 4tbsp Melted Butter: 4tbsp Yeast: 1 ½ tsp Salt: ½ tsp Triangles of cheese spread: 6-8 portions...
Add to my recipe book