Very Good Recipes of Seed from Good Food Ends With Good Talk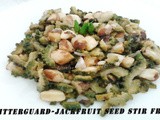 Bitter guard- Jack fruit Seed Stir fry
By Good Food Ends With Good Talk
10/14/12 17:21
Ingredients Jack Fruit Seed: 1 cup Bitter Guard/ Paavakka: 2 big Onion: 1 small Green chilli/ Birds Eye Chilli: needed Salt: Needed Coconut Oil: 4tbsp Method Of Preparation Peel and cut the jack fruit seeds into small pieces. Cut the bitter guard into small...
Add to my recipe book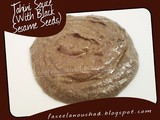 Tahini Sauce (with black sesame seeds)
By Good Food Ends With Good Talk
03/26/12 17:40
The below is tahini sauce with black sesame seeds. It is usually made with white sesame seeds, but unfortunately I ran out of white sesame seeds and the main problem with me is that if I see or come to know about any recipe I have to try it soon. So I tried...
Add to my recipe book