Very Good Recipes of Tomato Sauce from Gourmandelle Lifestyle Blog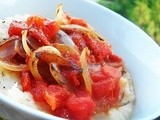 Mashed Butter Beans with Tomato Sauce
By Gourmandelle Lifestyle Blog
09/22/11 15:07
This is an easy recipe that can be used as a side, appetizer or even a main dish. Because this recipe is high in fibers and low in fat and sodium, it is recommended for those of you who are on a diet trying to lose weight. What I like most about this recipe...
Add to my recipe book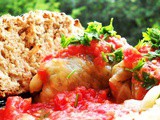 Pickled Cabbage Rolls with Tomato Sauce
By Gourmandelle Lifestyle Blog
08/01/11 18:16
I love pickled veggies, and cabbage is one of my favorites! Cabbage rolls will always remind me of my carnivore times, when I used to it them stuffed with ground pork every winter. It is a traditional dish you see - but I no longer fall prey to temptation!...
Add to my recipe book