Very Good Recipes of Curry from Healthy Gourmet Food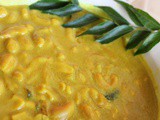 Creamy Cashew Nut Curry
By Healthy Gourmet Food
06/04/11 00:59
Cashew nut curry is a famous vegetarian dish in Sri Lankan cuisine, this is a must add item for any party menu. Soaked cashews are cooked in aromatic coconut milk and spices gives the creamy texture makes the flavorful pot of richly-colored curry. This...
Add to my recipe book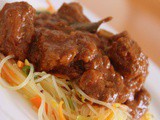 Slow simmered spicy lamb curry
By Healthy Gourmet Food
06/04/11 00:43
Lamb Curry is always good to eat when the weather is cold and brings with it lots of comfort.My favourite cut of lamb for a curry is either shoulder or leg, both cuts have mixture of fat and meat to give a good mix of flavour, bone in or out it is nice...
Add to my recipe book