Very Good Recipes of Grilled from Healthy Gourmet Food
Grilled Mango Shrimp Kebobs with Mango Salsa
By Healthy Gourmet Food
08/23/11 22:01
This Mango Shrimp kebab is a specialty dish from my good friend Mamatha. Shrimp came out real delicate and flavorful with sweet mango marinade. I just love the way Mango, onion and jalapeño pepper taste together in the Mango Salsa dish, Tangy and spicy,...
Add to my recipe book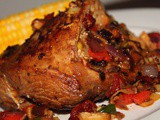 Grilled Stuffed chicken breast with mushrooms, pepper and onions
By Healthy Gourmet Food
06/05/11 15:59
If you are looking for unique, fun and delicious way to cook chicken breast, then this is the recipe for you. A delicate operation is required to ensure maximum flavor saturation in these grilled chicken breasts. Rest assured the work is well worth it....
Add to my recipe book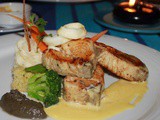 Grilled Spanish Mackerel with Fresh Mint Sauce
By Healthy Gourmet Food
06/04/11 01:03
If you are a fish lover like me then you know Spanish mackerel are a highly valued fish throughout their range from North Carolina to Texas. When ever I go to the fish market, I always search for a thick, fresh steak of Spanish mackerel or Sword fish for...
Add to my recipe book