Very Good Recipes of Omelette from I Love. I Cook. I Bake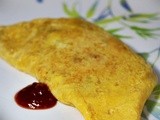 Omu Rice (Japanese Omelette Rice)
By I Love. I Cook. I Bake
04/21/12 17:31
I always love this dish, one of mostly chosen everytime I visited now closed down Shokudo in Raffles City, I'm one of the disappointed regular customer :( Decided to give it a try after found the recipe that looks worth trying, it's indeed yummy, but I...
Add to my recipe book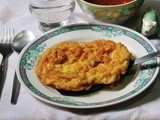 Omelette Puff In Sweet Sour Sauce (Fuyunghai)
By I Love. I Cook. I Bake
03/30/12 09:40
This is my second attempt cooking this dish, and I got the texture I wanted - puffy omelette The first one I couldn't get puffy texture, instead it was flat and soggy I guess I have mixed too much meat and vegetables, not enough eggs and I should have used...
Add to my recipe book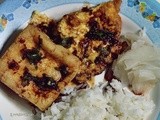 Mashed Tofu Omelette With Dark Sweet Sauce
By I Love. I Cook. I Bake
03/22/12 04:53
I cooked this long time ago, posted before HERE This time, I didn't prepare the eggs fried hardboiled, but instead I mix 3 beaten eggs and mashed from 1 piece of taukwa (firm tofu), added with chopped spring onion and seasoned with salt and pepper Still...
Add to my recipe book