Very Good Recipes of Pie from I Love. I Cook. I Bake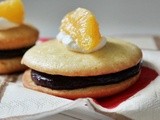 Bake Along #31 - Orange Chocolate Whoopie Pies
By I Love. I Cook. I Bake
08/26/12 17:22
This is the second whoopie pies I made, in conjunction with Bake Along event hosted by Zoe, Lena and Joyce Recipe is from Sweet Pea's Kitchen - lemon whoopie pies I used oranges instead, and I used dark chocolate ganache for the filling I used two different...
Add to my recipe book
Bake Along #29 - Chicken Pie
By I Love. I Cook. I Bake
07/27/12 16:15
I baked these pies this morning I always love chicken pie but this is my first time baking one :) The recipe has been in my to do list for ages, finally I made it I love these pies, really! The top crust has a lovely texture and taste oh so buttery, I wish...
Add to my recipe book