Very Good Recipes of Salsa from I Love. I Cook. I Bake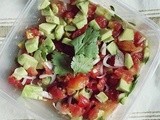 Avocado Tomato Salsa (Delia Smith)
By I Love. I Cook. I Bake
Subscribe
03/20/13 15:52
Allright, I'm not a trend setter, I'm a trend follower instead Everytime Cook Like A Star launches the star chef of the month, I always start with browsing through their website, or their cookbook if I own one And then I'll look through what others make,...
Add to my recipe book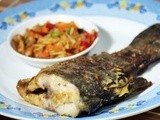 Fried Tilapia With Mango Salsa
By I Love. I Cook. I Bake
Subscribe
06/25/12 16:26
Nice combination, tasty fish with refreshing mango salsa I love the salsa so much I can eat it on its own! it's sour, spicy, with a hint of sweetness too, and the shallot, vegetables plus the mango itself are so crunchy, so refreshing! Yum yum... Recipe...
Add to my recipe book