Very Good Recipes of Tofu from I Love. I Cook. I Bake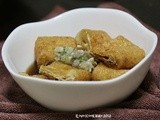 Tofu Puff in Hot Sour Sauce (Tahu Gejrot)
By I Love. I Cook. I Bake
07/10/12 09:59
This snack is easy to find anywhere in Indonesia, from roadside stalls to foodcourts But in Singapore, I gotta make it myself to be able to enjoy this traditional snack I haven't had in ages :) I was delighted to see the recipe in Dessy's site and immediately...
Add to my recipe book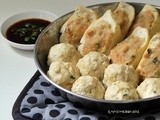 Steamed Stuffed Tofu
By I Love. I Cook. I Bake
04/24/12 17:46
I like this dish steamed, deep fried, put in simple chicken soup Nice and tasty, healthy too (not so when it's deep fried LOL)  Recipe is from Lidia's site What you need: 8 blocks of firm tofu, halved each, scoop out the middle part For filling: 200g minced...
Add to my recipe book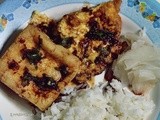 Mashed Tofu Omelette With Dark Sweet Sauce
By I Love. I Cook. I Bake
03/22/12 04:53
I cooked this long time ago, posted before HERE This time, I didn't prepare the eggs fried hardboiled, but instead I mix 3 beaten eggs and mashed from 1 piece of taukwa (firm tofu), added with chopped spring onion and seasoned with salt and pepper Still...
Add to my recipe book