Very Good Recipes of Lemon Chicken from Inside a British Mum's Kitchen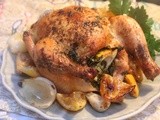 Lemon Chicken with Sage from the Garden and an Unconventional Cooking Method
By Inside a British Mum's Kitchen
Subscribe
05/17/13 02:35
A perfectly cooked chicken - despite its cooking time! Sage is one of my very favorite herbs with it's velvety leaves and pungent smell. I love to eat it but also to pick bunches and have them in the kitchen. The unconventional cooking method was temperature...
Add to my recipe book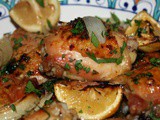 Quick Fix Roast Lemon Chicken Thighs with Garlic, White Wine and Fresh Herbs
By Inside a British Mum's Kitchen
Subscribe
05/29/11 04:21
This roast chicken is the first dish I taught my older children how to make. It's delicious and it's foolproof. The chicken is succulent, the skin is golden and crispy and it's bathed in a wonderful garlicky, lemony glaze. It's perfect for a crowd as there's...
Add to my recipe book