Very Good Recipes of Swiss Chard from Inside a British Mum's Kitchen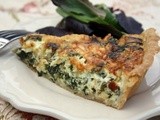 Swiss Chard, Caramelized Onions and Pecorino Cheese Quiche
By Inside a British Mum's Kitchen
01/25/12 00:44
This is SUCH a delicious quiche - I do recommend it. Even my picky eater liked it - I think it was the saltiness from the cheese. I would have loved to have got a shot of it in its entirety but they descended on it like vultures. It's a good thing I deftly...
Add to my recipe book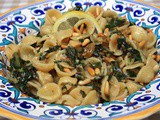 Pasta with Swiss Chard, Lemon and Pine Nuts
By Inside a British Mum's Kitchen
06/22/11 21:16
This is my favorite pasta dish. Two years ago we were fortunate enough to visit Rome. Of course I fell in love with just about everything Italian - who doesn't when they're in Rome? I ate pasta, pasta, pasta, because this was the place to learn. I didn't...
Add to my recipe book