Very Good Recipes of Sweets from Irish Food Guide Blog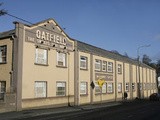 Ireland's Oldest Sweet Manufacturer to Close
By Irish Food Guide Blog
04/30/12 13:05
A Guest Post by Connie Duffy - Donegal Democrat Oatfield Sweet factory has itself made an enduring economic, social and cultural contribution to Letterkenny over its 85 years of existence. Not only has been a major employer in Letterkenny down through the...
Add to my recipe book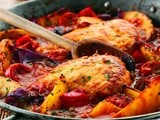 Chicken with Chorizo Sausage & Sweet Potato Wedges
By Irish Food Guide Blog
02/26/12 16:27
This recipe for chicken roasted with chorizo and peppers is perfect for a light lunch with friends. The chicken is baked with sweet roasted peppers, spicy chorizo sausage and red onions in a tangy Spanish-style tomato sauce and the sweet potato wedges make...
Add to my recipe book