Very Good Recipes of Bacons from It all tastes Greek to me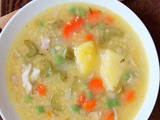 Red Lentil Soup with Bacon and Potatoes
By It all tastes Greek to me
10/18/12 16:35
I love red lentils ( I have no idea why they call them red, they're clearly orange), they have a delicate subtle flavor and the fact that they are hulled makes them cook really fast. Too bad they don't keep this amazing orange color after cooking. I started...
Add to my recipe book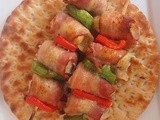 Simple and Delicious Chicken and Bacon Souvlaki
By It all tastes Greek to me
03/13/12 15:20
Can you go wrong? Today I have a simple delicious souvlaki for you, one of my favorite fast food that is very common in Greece. It's really easy to make it at home, get some pita breads from the grocery store and prepare your Saturday feast! I can see the...
Add to my recipe book