Very Good Recipes of Eggplant from It all tastes Greek to me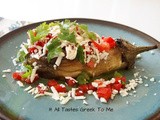 Thracian Eggplant Salad
By It all tastes Greek to me
06/07/12 03:11
Hello there! Did someone miss me? We had a short break but now we're back on track and today I have a great Summer salad for you. I f you're having a barbecue please throw one big eggplant in the grill and make this delicious smoky salad. It will disappear...
Add to my recipe book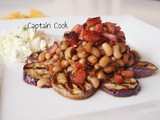 Black Eyed Peas with Sausage and Grilled Eggplant
By It all tastes Greek to me
05/22/12 18:03
I love black eyed peas! Like most of the beans they are so versatile, you don't have to soak them in water, and you have a nice healthy dish that doesn't take too much time to be prepared. So today I have a recipe for black eyed peas in combination with...
Add to my recipe book