Very Good Recipes of Roasted from It all tastes Greek to me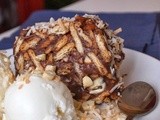 Chocolate Salami (Kormos) with Roasted Coconut and Cassius
By It all tastes Greek to me
Subscribe
01/29/14 22:52
Now here is a recipe that is very popular in Greece especially the last 20 years. I remember when I was a kid that this dessert along with the marbled bundt cake was in every house I was visiting... So... cute, delicious memories.. In this recipe I use...
Add to my recipe book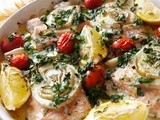 Salmon Fillets with Roasted Lemons, Fennel and Cherry Tomatoes
By It all tastes Greek to me
Subscribe
04/12/12 04:44
Hello there my lovely friends! I hope you all had a real good time this long weekend. Now we're back to normal although Greek Easter is this week and we're going to celebrate and see our good Greek friends. It's always fun when we get together. Today I...
Add to my recipe book