Very Good Recipes of Seafood from It all tastes Greek to me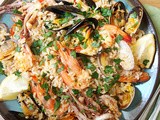 Seafood Paella
By It all tastes Greek to me
06/19/12 02:30
Hello! Summer is here and nothing reminds me of the Mediterranean better than seafood.. Paella is a dish originated in Valencia, Spain. Spanish Farmers and fishermen used to make this dish with any ingredient that they had handy. You'll see a paella using...
Add to my recipe book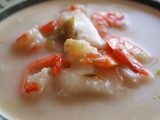 Exotic Seafood and Coconut Chowder
By It all tastes Greek to me
01/25/12 19:08
Have a nice week my friends! The first month of the new year is almost over! Time flies and if you think about it, Spring is just around the corner! Today I have a non Greek recipe for you, an exotic seafood chowder with leeks, shrimp, fish fillet and coconut...
Add to my recipe book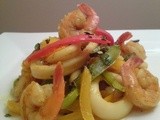 Seafood (By the Sea)
By It all tastes Greek to me
11/26/11 05:36
TGIF!!! Weekend is almost here! A chance to do things we love, rest or take a walk to a new place.. This recipe today is one of my favourites and some how it reminds me of Greece.. It reminds me all the sweet and adorable little taverns by the sea, friends...
Add to my recipe book