Very Good Recipes of Sésame from It all tastes Greek to me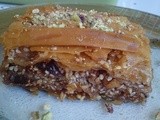 Thracian Baklava with Sesame Seeds and Dried Figs
By It all tastes Greek to me
12/23/11 23:42
Merry Christmas! I wish you all the best, have fun, enjoy the company of your loved ones and feel the joy!! Today I have a traditional dessert from my hometown Xanthi - Greece. It's a baklava with sesame seeds and dried figs. Baklava is the most easy dessert...
Add to my recipe book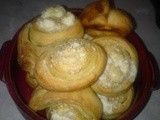 Easy Puff pastry pinwheels filled with feta cheese and sesame seeds
By It all tastes Greek to me
12/13/11 21:18
Feta Cheese and Sesame How are you my friends? Weekend is almost here, the weather is getting colder and holidays are coming closer! Today I have an easy but delicious appetizer. You can fill the pinwheels with any ingredients that you like. Ingredients...
Add to my recipe book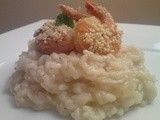 Fennel Risotto with Crispy Sesame Shrimp
By It all tastes Greek to me
11/30/11 22:16
Hello hello!!! It got a little chili today and we even saw some snowflakes.. But.. that was it! I know that for people who live here in Canada for many years, snowing is just so common and normal thing to happen but for me who it's my first year in Toronto...
Add to my recipe book