Very Good Recipes of Pumpkin from It's Easy Being Vegan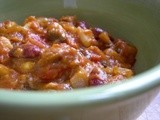 Pumpkin Hominy and Bean Chili
By It's Easy Being Vegan
08/28/13 21:28
2 tablespoons vegetable oil 1 medium yellow onion, chopped 3 cloves garlic, minced 1-1/2 cups mushrooms, sliced 1/2 cup green pepper, diced 1-1/2 cups cooked kidney beans (or a 15 oz. can, drained) 1 cup cooked hominy (or a 15 oz. can, drained) 1 can pumpkin...
Add to my recipe book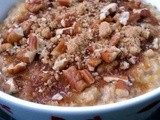 Easy Breakfast: Slow Cooker Pumpkin Coffeecake Oatmeal
By It's Easy Being Vegan
03/02/12 13:48
The only way to cook steel-cut oats is in the slow cooker. Here's why. I have been cooking them on the stove for several years but have never been able to cook the oats just right. Enter this slow cooker recipe from Kathy Hester. It's creamy and the oats...
Add to my recipe book