Very Good Recipes of Dip from ...Ja u kuhinji...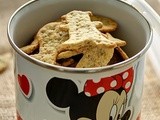 Hrana za najmlađe: Integralni krekeri i dip od leblebija
By ...Ja u kuhinji...
06/11/14 07:14
Kupovni krekeri ne mogu da se uporede sa nekim ovakvim, domaćim. Tačno znate šta ste stavili i koliko ste stavili... brašno od celog zrna, semenke suncokreta, bundeve, maslinovo ulje, himalajska so... Vaše dete zaslužuje nešto tako. Što se namaza tiče molim...
Add to my recipe book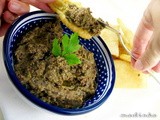 Dip od crvenog pasulja sa pita čipsom
By ...Ja u kuhinji...
11/11/11 13:42
Svaki put kad ne očekujem da će se deci nešto svideti desi se suprotno, tako je u ovom slučaju bilo sa slatkicom koja je bila i više nego oduševljena a meni nije palo napamet ni da joj ponudim da proba... :)) Potrebno je: za dip: 250 g crvenog pasulja (može...
Add to my recipe book