Very Good Recipes of Almond from Jenny Eatwell's Rhubarb & Ginger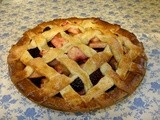 Spiced Blackberry and Apple Lattice Pie
By Jenny Eatwell's Rhubarb & Ginger
01/06/15 17:20
First of all, a very belated happy Christmas and a happy new year to you all! I do apologise for being so belated and missing out on posting seasonal goodies, but I've been laid up with a sad case of cellulitis which led to an additional case of gout, in...
Add to my recipe book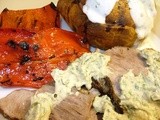 Roasted leg of kid goat with almond & orange blossom sauce
By Jenny Eatwell's Rhubarb & Ginger
05/01/13 13:53
Do you recall the Seco de chivo (or Goat with Green Peppers) that I cooked some while ago? Well, I was talking to Jason at Farmer's Choice via Twitter about the results and how the fattiness of the stewing goat pieces wasn't to my family's taste - although...
Add to my recipe book