Very Good Recipes of Apple Cake from Jenny Eatwell's Rhubarb & Ginger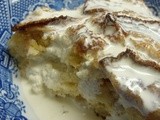 Dorset Apple Cake
By Jenny Eatwell's Rhubarb & Ginger
03/27/12 12:03
Having FINALLY got around to baking the Dorset Apple Cake that I'd been threatening to bake for around a month, I'm really not too sure about the results. You see, the photograph of the Dorset Apple Cake on the recipe (which was given to me by a friend...
Add to my recipe book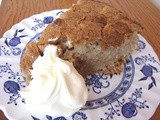 Cinnamon Apple Cake - simply gorgeous
By Jenny Eatwell's Rhubarb & Ginger
10/16/11 16:26
Well, this cake would take care of three apples if you ever find yourself with three extra - although I wouldn't try to take care of a glut of apples by making successive Cinnamon Apple Cakes. Not if you want to stay out of hospital, that is. This cake...
Add to my recipe book