Very Good Recipes of Red Pepper from Jenny Eatwell's Rhubarb & Ginger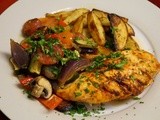 Paprika Chicken & Chorizo Bake - looks good and tastes even better
By Jenny Eatwell's Rhubarb & Ginger
01/14/13 11:03
This week has been a bit of a bumpy one for the poor old meal plan, as between one thing and another, we've had to move meals around and change them at short notice. Amazingly, I actually planned to have meals that could be moved and changed at short notice...
Add to my recipe book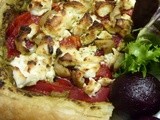 Green Pesto, Red Pepper, Green Olive & Goat's Cheese Tart
By Jenny Eatwell's Rhubarb & Ginger
12/30/11 15:10
That's quite a mouthful to say - and it is also quite a mouthful to get on a fork! Hubby and I dreamt up this tart when we were considering the menu for the week. Hubby had a yen for a tart of some kind, but his suggestions for ingredients seemed to be...
Add to my recipe book