Very Good Recipes of Chip from Jessie-CookingMoments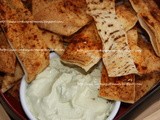 Jessie-CookingMoments
By Jessie-CookingMoments
Subscribe
11/27/11 13:03
Bread Chips (Paprika Flavour) - A Healthy Way to Eat Chips Part II: 自製麵包脆片: In my earlier post of Bread Chips, I've mentioned that I prefer the taste of the paprika flavour than the Moroccan seasoning and this post is all about it! Basically the recipe...
Add to my recipe book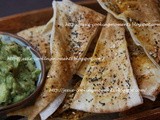 Jessie-CookingMoments
By Jessie-CookingMoments
Subscribe
11/27/11 12:41
Bread Chips - A Healthy Way to Eat Chips! 自製麵包脆片: There are 2 types of bread chips that I know of, ie theLebanese bread chips and pita chips/crisp. The recipe of making these chips is super easy and it only takes minutesto make. My recipe was taught by...
Add to my recipe book