Very Good Recipes of Cauliflower from Junglefrog Cooking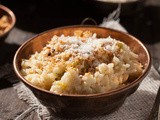 Cauliflower risotto with pangrittata
By Junglefrog Cooking
01/08/13 17:56
After having spend the entire day with my head buried in the numbers I think it is about time I wrote a little blog post instead. It's getting dark outside and while the temperatures are way too high for the time of year (it's roughly 10 C at the moment…...
Add to my recipe book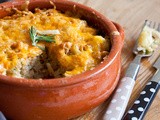 Cauliflower fennel gratin
By Junglefrog Cooking
03/07/12 12:22
When you talk to people about fennel, they are either in the pro or con camp. There doesn't seem to be some sort of middle way when it comes to fennel. Granted the flavor of fennel is quite distinct. I love it in all it's forms; seeds, fresh or dried (come...
Add to my recipe book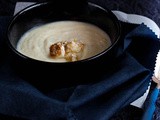 Creamy cauliflower soup – dhspc #5
By Junglefrog Cooking
01/03/12 16:48
I've been having this one on my desk for a while now. I know Donna Hay is known for her light and airy photographs, but really, if you go through the magazines, you will notice that there are quite a few with beautiful dark and moody images. Maybe because...
Add to my recipe book